These little snacks pack a nutritional punch to rival even the most popular of superfoods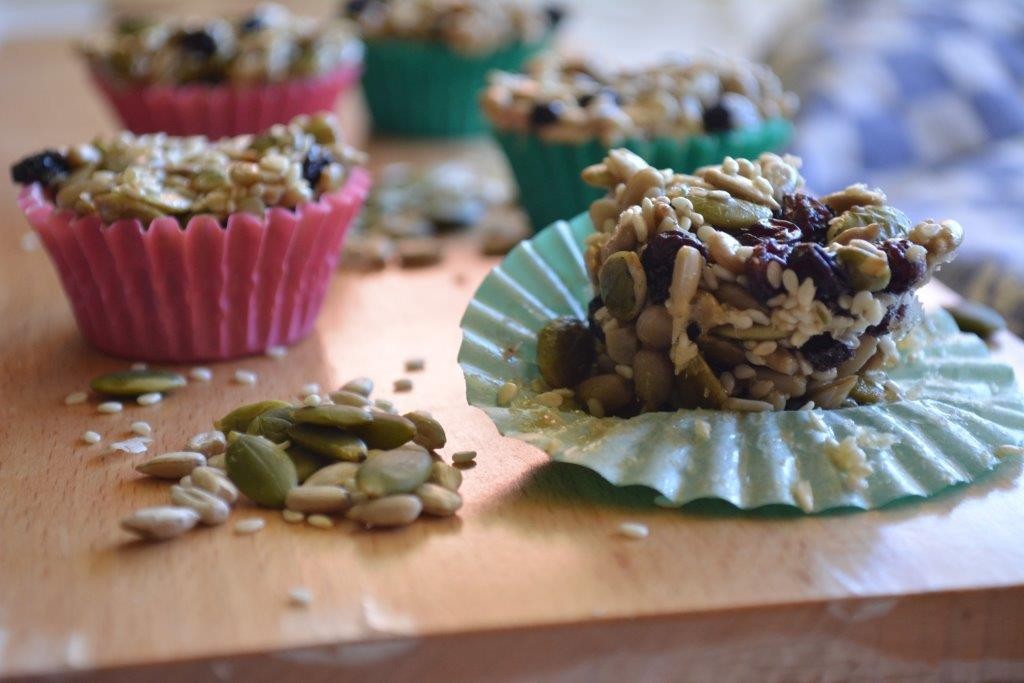 Gluten-free seed clusters
A nutritious and crunchy snack for lunchboxes. And they're yummy! Also nut-free and egg-free.
Equipment
1 mini muffin oven tray

12 cavities, 25 ml capacity

12 small patty pan cases

1 shallow slice oven tray

1 Large mixing bowl

1 Mixing spoon

1 Small mixing bowl
Ingredients
60

g

sunflower seeds

60

g

pumpkin seeds

35

g

sesame seeds

50

g

dried currants

40

g

butter, melted

40

g

rice malt syrup (or honey)

Cooking spray
Instructions
Preheat oven to 180° Celsius (conventional oven) or 160° Celsius (fan-forced oven)

Grease and line 12 cavities in a mini-muffin (25 ml capacity) tray. Lightly spray the bottom of each patty pan with cooking spray

Grease and line a large shallow slice tray and spread seeds over tray in a thin layer

Remove tray from oven and allow to cool a little

Put seeds into a large bowl, along with currants. Combine

Put butter and rice malt syrup into a smaller bowl

Cover the smaller bowl with a plate and microwave on high for 30 seconds, or until butter is melted. Stir to combine

Pour butter mixture into seed mixture and combine

Put heaped teaspoonfuls of the mixture into each patty pan

Press down on the mixture with the back of the spoon to compact it and then fill each patty pan with more mixture

Press down again with the back of the spoon to compact the mixture

Put the tray in the oven and bake for 15 minutes
Notes
Store in an airtight container and consume within three days.
Nut-free
Refined sugar-free
Egg-free
To make dairy-free, replace butter with Nuttelex spread.
Gluten-free seed clusters are an ideal lunchbox snack
I've never been a huge fan of seeds. Even though they're so full of nutritional goodness, I could never get too excited about snacking on them. Honestly, I'd rather eat nuts.
If your household is anything like mine, then the food tastes of the grocery shopper largely dictate what goes into the shopping basket each week. And so it has been the case that I've never really bought seeds.
But some time ago, I was given a trove of gluten-free groceries by friends who were moving overseas. Among them were sesame seeds, pepitas (pumpkin seeds) and sunflower seeds. They sat in my cupboard untouched until recently, when I finally turned my mind to how to use them.
Gluten-free seed clusters seemed a good solution and a great option for lunchboxes. After all, when it comes to their nutritional profile, these little guys are packing a punch to rival even the most popular of superfoods.
Incredibly good nutritional value
According to the website C Health, between them, these three seed varieties contain high levels of:
good fats
proteins
amino acids
folate
selenium
vitiman E
iron
zinc
copper
magnesium
calcium.
That's quite a list.
The family's verdict
But the really big surprise with these gluten-free seed clusters is that my coeliac daughter, who remains my fussiest eater (although not nearly as fussy as some) just loves them and regularly asks me to make them. No problems at all. Even though I can't freeze them, they're so quick and easy to make that I can whip them up in just minutes whenever I have the oven on. And they'll keep in an airtight container for a few days.
The verdict from the rest of the family? My husband, daughter and I love them. My other daughter and son are not quite as keen but they'll regularly find them in their lunchboxes and I'm sure they'll tuck in if they're hungry.
Enjoy!
Looking for more gluten-free lunchbox ideas? Check out my eCookbook.
BUY NOW